Is Stem Cell Treatment for Ataxia Effective?
Since 2005, we have been developing comprehensive stem cell treatment protocols for ataxia to overcome the limitations of conventional therapies. In our protocols, stem cells are combined with specialized therapies for ataxia that not only focus on helping the patient to cope with their symptoms, but also treat the direct cause of the symptoms by promoting the healing of the brain/spinal cord injury. We believe that our comprehensive treatment approach for ataxia gives our patients the best chances of improvements, allowing for a better quality of life. Our stem cell treatment program can be applied to different types of ataxia including SCA1, SCA2, SCA3, SCA6, AOA1, Friedreich ataxia, ataxia caused by brain injury and more.
Reversing the symptoms of ataxia!
Ataxia is a medical condition caused by loss of function in the cerebellum and and/or dysfunction of its pathways (brain stem, spinal cord). In most cases, the disease is caused by genetic mutation (hereditary ataxia) with spinocerebellar ataxia (SCA) and Friedreich's ataxia (FRDA) being the most common.
The cerebellum acting as a coordination center in the brain explains why patients diagnosed with ataxia progressively develop symptoms such as gait/walking instability, dysarthria (slurred speech) and individuals affected may begin to fall without warning. The progression of the disease may later lead to fatigue, swallowing impairment, tremors, reduced coordination, decreased mental alertness and unpaired motor functions.
Few conventional treatment options are available for patients diagnosed with ataxia, which mostly focus on alleviating the symptoms. None of them are actually treating the loss of neurological function caused by cell degeneration in the cerebellum, brain stem and/or spinal cord. Stem cells have the ability to regenerate injured cells in the body, helping to reduce/reverse the symptoms and allowing ataxia patients to improve.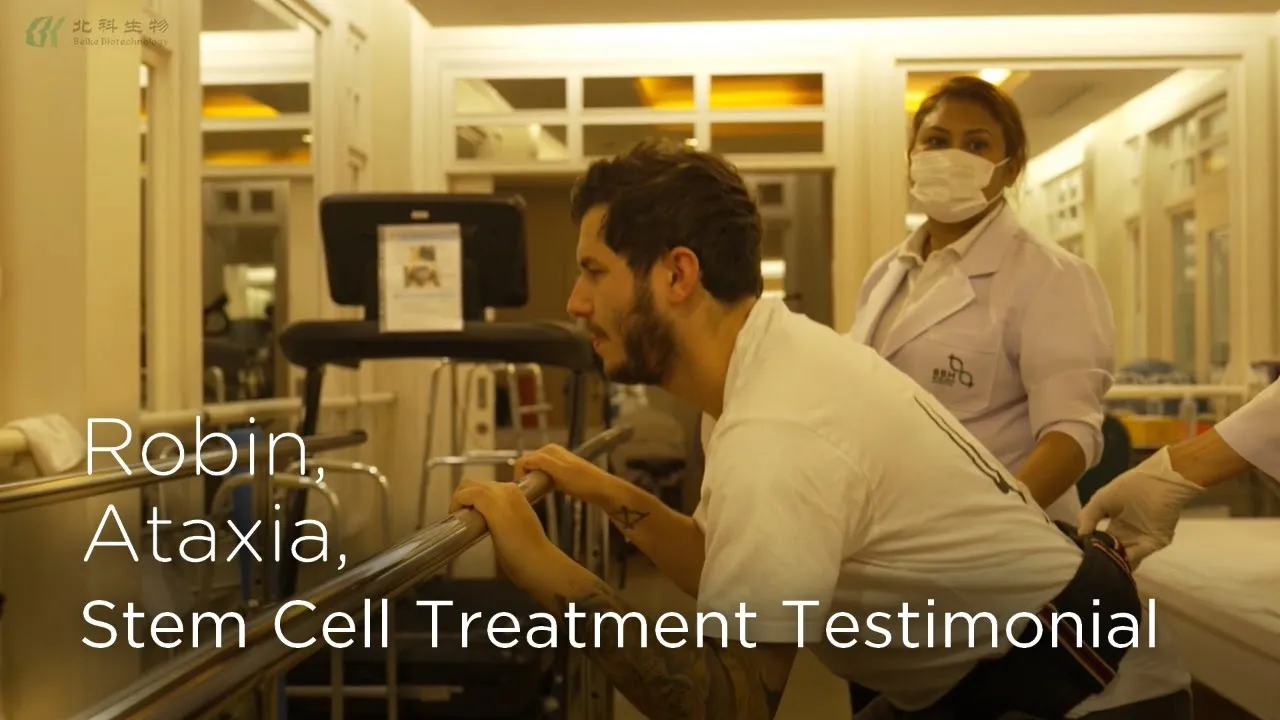 Robin and his family were in shock when he was diagnosed with Ataxia at only 16 years old of age. The first symptoms were shaking, walking imbalance, and difficulties in speaking. After researching online his mom came across our Youtube videos and decided that Beike could be the hope to improve Robin's quality of life. After a successful first stem cell treatment in 2018, Robin and his mom agreed to sit with us and share the dramatic improvements he has experienced and what made them decide to come back in March 2022.
Possible improvements after Stem Cell Therapy for Ataxia
The purpose of our stem cell treatment is to restore neurological function in the brain/spinal cord lesion area, thus, various kinds of improvement are possible after our treatment and our past patients have experienced the following*:
Better balance and coordination
Reduced fatigue
Improved speech
Decreased tremors
Improved motor function
Better swallowing
Decreased neuropathic pain
Improved mental alertness
*It is important to remember that improvements experienced by patients diagnosed with hereditary ataxias may not be permanent, as stem cell treatments do not currently have any influence on the genetic origin of these specific types of ataxia. In such cases, periodic treatments may be required to keep a stable condition. Finally, as for any medical treatment, improvements cannot be guaranteed.
Our Treatment Program in Details
Beike is unlike any other stem cell treatment provider in the world, the reason? Since 2005, we have been developing and optimizing our stem cell treatment protocols with the concept that only a very comprehensive solution can allow our patients to truly benefit from stem cells. We believe that stimulation through various therapies is necessary to enhance stem cell regenerative response, therefore our protocols include daily therapies to support the stem cells. Finally, we provide a wide variety and large quantities of stem cells in order to adapt to each patient specific condition and deliver maximized regenerative potential.
Our ataxia treatment consist in 6 to 8 simple and minimally invasive injections of umbilical cord derived stem cells. The stem cells are transplanted using two separate methods: by intravenous way using a standard IV drip system, and through intrathecal injection performed after lumbar puncture. These two delivery methods allow for increased efficacy while ensuring safety and minimum inconvenience for the patient.
15 to 23 Days Stay
IV & Intrathecal Injections
UCBSC / UCMSC Cells
Daily Therapy Program
120-400 Million Cells
Nutrition Program
Patient Experience Stories
Find out more about patients previously treated with Beike stem cell protocols. The families participating in these blog posts talk about their stories and present their own view of the treatment, including thoughts regarding the daily therapies, the stem cell injection themselves as well as improvement noticed during and after treatment.
Clémence and Sarah, sisters aged 29 and 31, suffer from type 2 Oculomotor Ataxia. They were diagnosed in 2001 and back then they were experiencing minor balance issues, which gradually worsened. According to the girls' mom: "Faced with the inaction of French medicine in 2012, we looked around the world …
In February, Lotta (4) was diagnosed with spastic spinocerebellar ataxia. For mother Sandra the world collapsed. For some time she had noticed that Lotta had difficulties walking and her sight got worse and worse. But the diagnosis of spastic spinocerebellar ataxia came as an absolute shock. Especially because the doctors …
When Robin Schmetzer was diagnosed with spinocerebellar ataxia type 2, his doctors told him that there was nothing they could do for him. Robin's mother did not want to accept this and began to search the Internet for alternative therapies. After extensive online research, she found Beike Biotechnology. Robin's ataxia …
Stem Cell Quality and Quantity Ensured
Different types of stem cells for different needs
Beike provides stem cells from two separate sources: umbilical cord blood and umbilical cord tissue. Umbilical cord related samples are donated by healthy mothers after normal births and are sent to Beike Biotech's laboratories for processing.
After reviewing the patient's full medical information, our doctors will recommend which source of stem cells should be used for treatment. Our treatment protocols may include one or multiple types of stem cells in combination depending on each patient's specific condition.
Highest International Stem Cell Processing Standards
Beike Biotechnology is processing its own adult stem cells in its internationally accredited laboratories. The company has full control over the processing and quality control of all stem cell products, ensuring perfect safety and highest quality.
Patient Videos
Below are video interviews recorded during treatment with Beike stem cells. The families showcased in these videos talk about their personal stories and their experience of the treatment including the improvement noticed.
The improvements mentioned in these videos are typical, however it does not guarantee that all patients may have the same improvements.
Why Choose Beike for a Stem Cell Treatment?
Experience: With more than a decade of practice, you are ensured to be advised and treated by competent professionals.
Safety: Accredited by the American Association of Blood Banks (AABB) and following highest international standards, our stem cell processing methods and laboratories ensure that you receive the best stem cell quality available.
Diversity: Multiple types of stem cells having different capabilities are available to adapt to each patient's specific condition. We do not use the same type of stem cells for all patients.
Extensiveness: A complete supportive therapy program is provided daily to stimulate patient's freshly transplanted stem cells. The best improvement can only be obtain by supporting your stem cells.
Support: A full follow-up program is provided after the treatment and you will be asked to take part in it at 1, 3, 6 and 12 months after treatment. Access to our team after the treatment is very important as you may receive further advice to maximize improvements.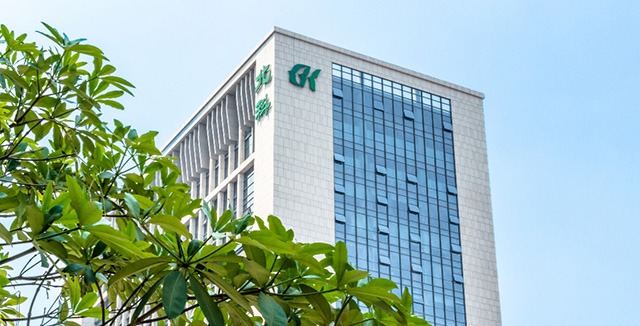 Founded in July 2005, Shenzhen Beike Biotechnology is a national high-tech enterprise specialized in clinical transformation and technical service of biological treatment technology of strategic emerging industries.
Frequently asked questions about Ataxia
Most often cerebellar ataxia is caused by loss of function in the cerebellum, which is the part of the brain that serves as the coordination center. The cerebellum is located toward the lower posterior part of the brain. The right side of the cerebellum controls coordination on the right side of the body while the left side controls coordination in the left part of the body. The central part of the cerebellum controls the very complex movements of gait or walking, head and trunk stability and eye movements. Other parts of the cerebellum help to coordinate eye movements, speech and swallowing.
Cerebellar ataxia may also be caused by dysfunction of the pathways leading into and out of the cerebellum. Information comes into the cerebellum from the spinal cord, and other parts of the brain and signals from the cerebellum go out to the spinal cord and to the brain. Although the cerebellum does not directly control strength, (motor function) or feeling, (sensory function) the motor sensory pathways must work properly to provide the correct input into the cerebellum. Thus, a person with impaired strength or sensation may notice clumsiness or poor coordination and may be diagnosed with cerebellar ataxia.
There are many causes that could affect the function of cerebellum. These causes could be classified into 10 categories: developmental (e.g. cerebellar hypoplasia); hereditary (e.g. Friedreich ataxia); vascular (e.g. cerebellar hemorrhage); toxin-associated (e.g. alcohol); medication-associated (e.g. anticonvulsants); neoplastic (e.g. cerebellar tumor); infectious (e.g. encephalitic bacterial infection); immune-associated (e.g. multiple sclerosis); metabolic and nutritional (e.g. deficiency in vitamin E). read more
How does ataxia affect the patient?
The disease is characterized by progressively disabling clinical manifestations. Patients show symptoms of gait instability or dysarthria and may begin to fall without warning. Gradually they present progressive limitations in their activities, lose the ability to walk, become bedridden and fully dependent. Other clinical manifestations include astasia, impaired fine motor skills and intention tremor (cerebellar tremor). The cerebellar syndrome is often associated with other neurological signs such as pyramidal or extrapyramidal signs, ophthalmoplegia, and cognitive impairment.
How to diagnose cerebellar ataxia?
Most people don't know what cerebellar ataxia is and may overlook the early symptoms. Anyone with progressive gait disorder or imbalance should be evaluated by a neurologist. MRI is recommended in all cases. If a treatable cause is not discovered, a gene test should be done. In about 60 percent of the cases, the gene test will determine the type of ataxia.
What is the efficacy of conventional treatments?
Until now, conventional treatments are generally used to alleviate the symptoms, not the disease itself. The movement disorders can be managed using pharmacological, physical and occupational therapies to minimize the damage and to promote the mobility as long as possible but overall current treatment remains retardant.
What are the difference between autosomal dominant and autosomal recessive ataxias?
Autosomal dominant and autosomal recessive ataxias are hereditary ataxias, and spinocerebellar ataxia (SCA) and Friedreich's ataxia (FRDA) are the most common forms of hereditary ataxia. Autosomal dominant genes express themselves when present. Autosomal recessive genes will only express themselves when in the homozygous state — i.e., both genes in the gene pair are the recessive gene form. Thus, recessive genes can be "carried" by those whose phenotype does not exhibit the gene characteristic, while dominant genes cannot be "carried". Therefore, generally autosomal dominant ataxias are easier to express and at a higher morbidity than autosomal recessive ataxias.
What is the role of Purkinje cells, where can we find those cells ?
Purkinje cells are a type of neuron found in the cerebellar cortex, at the base of the brain. They are among the largest neurons and are responsible for most of the electrochemical signaling in the cerebellum. The Purkinje cells and the cerebellum are essential to the body's motor function. Disorders involving the Purkinje cells usually negatively affect the patient's movements.