Romanian patient Ovidiu Simion was diagnosed with pigmentary retinopathy, a condition which accelerates the degeneration of the visual field. Patients with this condition experience increasing loss of vision and may feel as if they are looking through a telescope due to the limited range of vision. Below is a brief interview describing the patient's journey from finding stem cell treatment for pigmentary retinopathy to their treatment experience in China, the results and expectations, and returning home.
The following interview is transcribed from the original Romanian and reflects the patient's treatment experience and opinions.
Please describe your physical state before stem cell treatment. What are the symptoms of pigmentary retinopathy and what were you/the patient experiencing personally?
Before arriving in China and the clinic, I was very tired because of the job. Physically, I felt very tense, tired, excited by how it would be and what it would be. Now after three days of treatment, I feel more relaxed and much better.
How did you hear about stem cell therapy? What did you think of the technology? Were there any concerns or hopes before arriving?
In Romania, I have a good friend who is a priest and who knows Mrs. Alina Radescu, the Representative for the Romanian Patients at Beike. He put me in touch with Mrs. Alina and she helped me throughout the whole process. As far as the expectations are concerned, I was very reserved and I explain this using the numerous disappointments I had in Romania.
How did you find Beike? What lead you to choosing Beike as a treatment option?
I saw many doctors even in the Romanian capital, Bucharest, doctors who gave me hope and, in the end, it was a big disappointment. I also visited other doctors from Romania, but the disappointment was the same. No hope! But this time, God wanted it; I started with just a thought that the stem cell therapy is the only and safest solution. And thank God, I feel that my visual channel was unlocked and I am sure that the improvements will be. I am positive about this.
What were your treatment expectations before going to China? What specifically were you hoping to achieve?
I wanted to overcome my fear. This, in recent years, has been grinding me very hardly. I like to be independent. I do not want to depend on another person. I want to be the master of my own instincts and my decisions. Just the idea of having to depend on a cane scared me. Of course, within me, I am impatient and cannot wait to get well. I know that improvements will be but I need to be patient. Showing patience for so many years, now this only thing I need to do is just to continue to be patient. I like to be independent and self-dependent. Thank God and thank you who are at Beike who give life to those people who actually are stuck by the health systems and palliation those in an irreversible and without any chance of recovery.
Upon arrival, what were the first few days like? Was it convenient, comfortable, etc?
Starting with pick-up from airport by Beike Biotechnology staff, I had a feeling not of the first meeting but simply of coming back to place I have already been. I say this, maybe because it was such a good collaboration on the internet with the Romanian Representative, before arriving in Shenzhen, China, that the impact of the unknown was reduced or eliminated by the warmth with which we were welcomed, both me and my son.
What do you think about Shixin Hospital and the Beike staff overall?
The warm-hearted welcoming at the airport in Shenzhen, the visit of the Beike headquarters and the medical test at the Shenzhen Ophthalmic Hospital demonstrated earnestness, punctuality, professionalism and willingness to work nicely with every human being. These people have a determination, this thing being specific to Asian people. I noticed, from the simple cleaner to the doctor who took care of me here, the manager and staff of Beike and of Shixin Hospital, an attitude that helps the patient who suffers. I felt that these people do their job with patience, which helps both the patient and the institution they represent.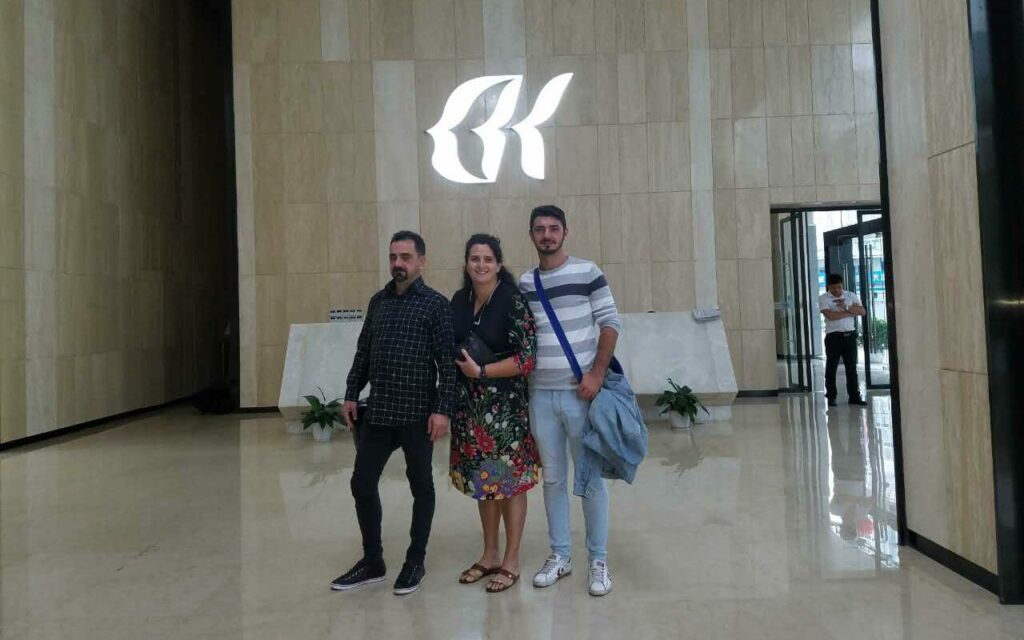 How about visiting Beike HQ?
From the very beginning, I was impressed and I am still impressed by the program the staff from Beike has to introduce and take us to visit the Beike headquarters. The Representative took the time to introduce the duties of each member of the Company. What I noticed and felt, it is, in fact, desire of the Romanian Patient Representative to be closer to the patient, closer to her or his worries and suffering. The patient who has not been here receives this as a real relaxation. I felt like part of your family, those of Beike Biotechnology. I got tired due to the trip but I was doing my best not to lose any detail that the representative was giving us. I felt like part of Beike family.
Please tell us about any result that you have seen. Also, what are your thoughts about this comprehensive approach, including nutrition and functional medicine that goes hand in hand with the cell therapy?
My thoughts are all directed toward more and contentment, gratitude, respect and I bow in front of everyone that I've met in this country. I am very pleased with all people I met here, both in terms of medical, therapeutic and human field. Yes .It is another world based on common sense, respect, honesty, modesty and great skill. I'm lucky because I could get around these people and I thank God and I thank many friends from Romania who supported in this soul project to fulfill a long awaited desire: the stem cell treatment. I recommend the stem cell treatment to all those deprived of solutions by the conventional medicine.
Another approach to health is given by the Chinese medicine. The Chinese medicine treats the origin of the disease, the root of the disease. I look forward to coming for a second round for this miraculous treatment. I say "miraculous" because being a masoterapeut, I understand very well the complementary therapies program that had prepared and cleaned the channels that were clogged, jammed. These therapies have had an important role before injecting stem cells. Altogether, they form a whole that I felt it, I noticed.
Thanks to all those who took care of me here in the Hospital, the Clinic ophthalmology, to the Beike stuff, I wish them good health and wisdom to continue this nice project expected by many people, who are lack of solutions. May God help all in need. I will be a correspondent of Beike Company unconditionally. I'll do it with all my heart because this is what I got and this is what was offered to me: help and hope. I offer to the others the same: humanity, respect and openness to information, clarification and, why not, determination to get the stem cell treatment. May God protect you! Thank you so much for everything!